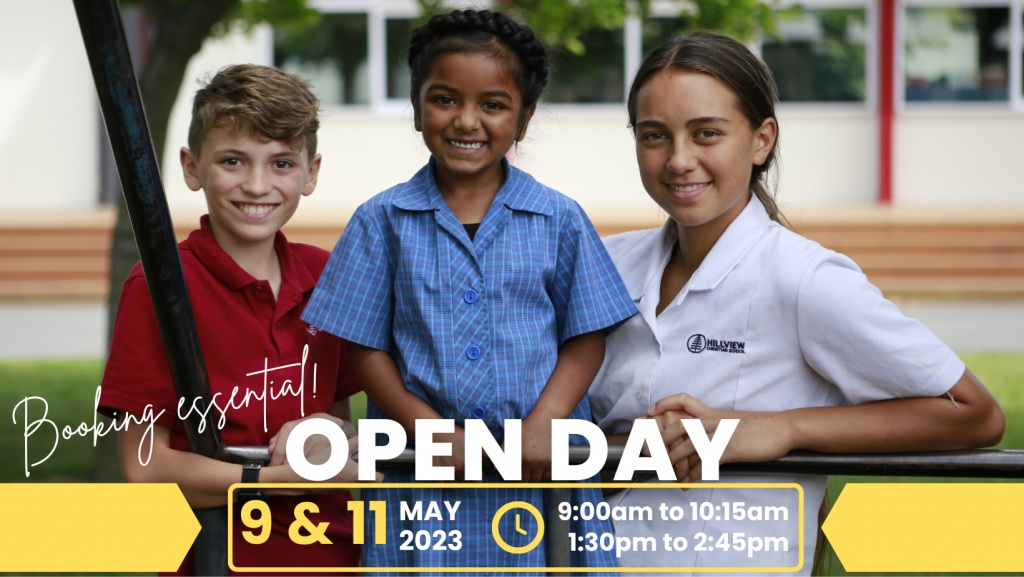 Kia Ora, Thank you for considering Hillview Christian School for your child's education. Please see below for key dates and documents that you will need for our school enrolment application process.
ENROLMENT DOCUMENTS  
click on the link below.
Paper forms are available from the school office, 150 Wilsons Road, St Martins.
OPEN DAYS
Open Days are on Tuesday 9th and Thursday 11th May 2023. There will be four sessions (two on each day), 9am-10:15am and 1:30pm-2:45pm. Bookings are essential. Please follow the link
HERE
 to register.
ENROLMENT DATES & INFORMATION:
The closing dates for 2024 Enrolment applications are:
Friday 18th August 2023 for New Entrant applications (for all children turning 5 and starting school in 2024, including current sibling applications.
Friday 9th June 2023 for Year 9 applications
To be considered for a place at Hillview Christian School you must complete and return to the school office the following requirements:
Enrolment application form completed and signed by both parents/caregivers (if applicable)
Written pastoral reference if you attend a church, or a character reference if you do not attend church
Latest school reports (if applying to transfer from another school)
Please feel free to contact Kerry Harris if you require further information by phone, 03 332 6923 ext 229 or email: k.harris@hillview.school.nz 
FURTHER INFORMATION
Hillview Charter 2022
Education Review Office Report
Hillview Christian School – Enrolment Zone. 
(Please note: living within the zone does not mean you will receive automatic entry)
For information about the other Christian schools in Christchurch please click on their links here:
Middleton Grange | Aidanfield Christian School | Emmanuel Christian School | Rolleston Christian School